Fulham was established in 1879, but there is no record of Fulham shirts until 1886. At that time, the Fulham jersey was half red and half white, with matching white shorts.
In 1903 the club played in fully white shirts for the first time. Even the a Fulham shirt is not all white today, the 1903 jerseys was the foundation of the shirts we see today.
Fulham shirt (home)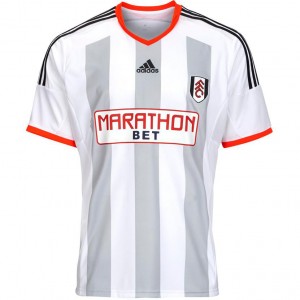 Fulham jerseys (away)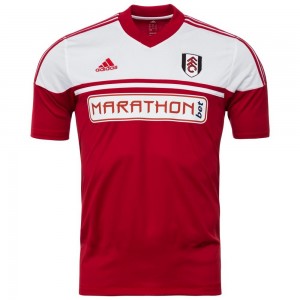 Fulham shirts (third)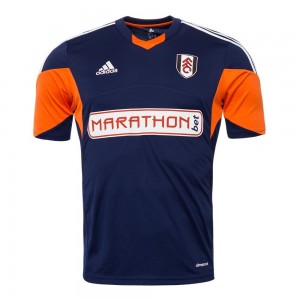 Where do the pictures come from?
The pictures are kindly lent by Unisport.
Facts about Fulham FC
Fulham's sponsors
As for most other old football clubs, Fulham have had a lot of different sponsors. But on a few point, there is something special about the sponsors Fulham have had on their shirts.
First football shirts to feature a betting company
When Fulham signed a main sponsorship deal with Betfair in 2002/03, this was the first time a betting company was featured on the shirts of an English club.
Not long after, a new law was implemented in England in 2005, which prohibited betting companies from advertising on TV. This made it even more attractive for betting companies to sponsor football teams, as this was another way to be presented on TV. This lead to more than half of the Premier League teams to be sponsored by betting companies 15 years later. An example of this is Everton who had their shirts feature SportPesa as main sponsor in the 2019/20 season.
But Fulham shirts was the first to feature betting sponsorships.
Fulham shirts made by "the 3 large"
It is no seldom that clubs have had their shirts made by all 3 of the large manufactures at some point (Nike, Adidas and Puma).
But in Fulhams case it is a bit special, because they manage to have partnerships with all three within a timespan of less than 10 years. This is not something we see every day.
All of the Fulham shirts main sponsors
1984-85: William Younger
1985-87: Prestige Travel
Rest of 1987: No sponsor
1988: Emirates
1988-91: TeleConnect
1991-93: No sponsor
1993-98: GMB
1998-01: Demon Internet
2001-02: Pizza Hut
2002-03: Betfair
2003-05: Dabs
2005-07: Pipex
2007-10: LG
2010-13: FxPro
2013-15: Marathonbet
2015-17: Visit Florida
2017-18: Grosvenor Casinos
2018-20: Dafabet
2020-xx: BetVictor
All the Fulham jersey manufactures
1974-77: Umbro
1977-81: Adidas
1981-84: Osca
1984-87: Umbro
1987-90: Scoreline
1990-92: Ribero
1992-93: DMF Sportswear
1993-96: Vandanel
1996-97: Le Coq Sportif
1997-03: Adidas
2003-06: Puma
2006-07: Airness
2007-10: Nike
2010-13: Kappa
2013-xx: Adidas
Which old Fulham shirts is the greatest?
It's always fun to hear which shirts fans like the most – and which football shirts are less popular. The opinions are often split and when you look back at previous presentations of Fulham jerseys, it is evident that it is impossible for the designes to please all.
So feel free to share your views below: Which Fulham shirt is the greatest of all time?