My name is Claus and I am a big football fan. Especially old football shirts have become a great passion for me, as football shirts for me symbolize pride, joy, experiences and a whole lot of the other positive elements that are an important part of football. When I look at my various football shirts in the closet I get filled with joy and fond memories. If you have it in much the same way, then you will probably benefit greatly from this site.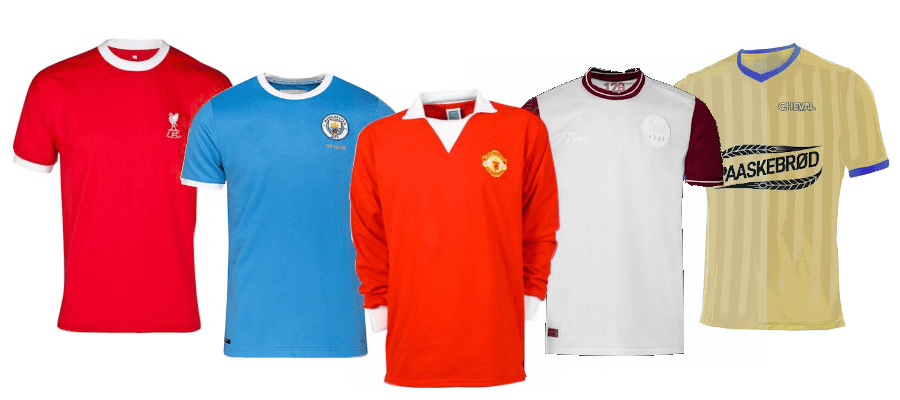 Footballshirtz.com gives you an overview of the football jerseys of the big European clubs – both the current and historical football jerseys. At Footballshirtz.com you can both find pictures of the football jerseys, but also references to where you can buy football jerseys cheaply. If you love football jerseys, then you have found the perfect place.
Which old football jerseys are most popular?
Of course, there are several ways to assess which football shirts are most popular. I immediately believe that sales figures and searches are relevant parameters, so these form the basis of my assessment of the popularity of football shirts.
The football shirts that are most popular at the moment are: Real Madrid, FC Bayern Munich, Manchester United and FC Barcelona. Trends and popularity change over time – and this also applies to football jerseys. However, the market for football jerseys is also characterized by great loyalty, which many football fans can probably nod in recognition of. The football jersey that has been at the top of the list of both searches and sales in recent years has also been the same – the Real Madrid jersey!
How do I find the old football shirts on the site?
At the top of the page you will find a menu which contains the major European countries in the football sense. You can either select a country and read more about the general football jersey culture, or you can select a team from the country directly in the drop-down menu.
You can also use the search function at the top to find your favorite team and their football jerseys. So there are many paths to the goal and the several hundred football jerseys on the side.
Best looking football jerseys
It is of course very subjective which football jerseys are the most beautiful, but I still take the chance and have listed here some of the most beautiful football jerseys through time:
Retro football jerseys
Some of the most beautiful football jerseys of all time in the simple "retro style" are in my opinion the following:
Liverpool home jersey from 1981-83
Modern football jerseys
When we look at the most beautiful football jerseys in more modern designs, I think it is worth mentioning the following as some of the most beautiful:
AC Milan home jersey from 2014-15
Atletico Madrid away jersey from 2019-20
Dortmund away jersey from 2014-15
Other languages
🇸🇪 https://fotbollstrojorna.se/